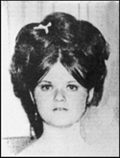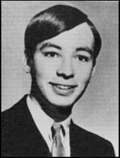 The first "official" victims of the Zodiac Killer. Betty Lou Jensen, 16, and David Faraday, 17, were attacked on the cold night of December 20th, 1968.
The couple were on their first date when they were senselessly murdered. Both of the victims lived in the small town of Benicia in Southern California. 
Betty Lou Jensen was a native of Colorado. She was a Junior at Hogan High School and an honor student. She was a Grand Royal Bride of the Prima Vere Council #132 Pythian Sunshine Girls, which according to their website the "purpose of the Sunshine Girls is to lay a foundation of purity, service and usefulness in all things that help to make the lives of those around us happier and the world a better place to live in." She was also a member of the Christian Science Church. 
David Faraday was a native of San Rafael, California and a Senior at Vallejo High School. He was active in school government, and he was on the wrestling team. He was an Eagle Scout and member of Explorer Post #209. He had recently won the God & Country award, which is the highest honor in scouting. He was Lodge Chief of the Order of the Arrow in Solano, Napa and Lake County. He was a member of the Knights of Dunamis, which was an organization for Eagle Scouts that was devoted to service. He was also a member of the staff of the Silverado Area Council, another scouting group, and he was an active member of the Presbytyerian Church. He had 2 brothers and a sister.
So these two kids were the epitome of good all American kids.
According to the police report they had met a week earlier at a church function where they were both on a committee to decorate the Hall at the Pythian Castle for a music festival. 
Apparently it was love at first sight, so much so that David started cutting classes to spend time with her, and every day after school he would drive her home.
Betty Lou had never dated and upon the advice of her sister, she invited David to her home to meet her parents.
David arrived at her home at 8:00 pm and after being introduced to her parents, they left the house to attend a festival at Hogan High School, three blocks from her home, and then to a house party afterwards. They were to back home by 11:00.
They apparently had other ideas for the evening. Her parents found out later that there was no festival at Hogan Hogan School, and they didn't show up at any of the known parties happening that night.
Instead the couple went to see her best friend, Sheron. They got there around 8:30 PM and talked about possibly going to San Francisco.
This is how crazy in love David was. Imagine one of the most straight laced kids completely risking everything for this girl. It just shows how madly in love he was with her.
They left Sheron's house at 9:00 PM but didn't tell her what their plans were.
At approximately 11:20 PM, they were found by a passerby. Both shot multiple times.