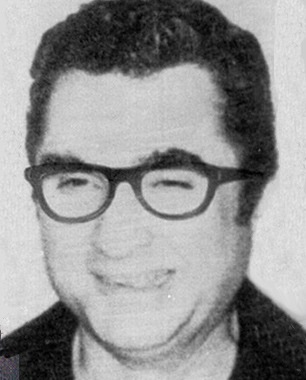 SUSPECT (1968)
Age: 44
Height: 5'9″
Weight: 160 pounds
Hair: black
Eyes: brown
Wore glasses? yes

ZODIAC (1968)
Age: 40-45 years
Height: 5'9″
Weight: 160-200 pounds
Hair: Dark
Wore glasses: yes
In 1968 lived at:
217 Eddy Street
San Francisco, CA
Suspect Kane's psychological profile:
Raised by his mother. Parents divorced when he was thirteen years old. Only living child.
Lived with his mother all of his life. She died in 1983.
He was approximately 59 years old when she died.
A loner.
Con artist, deceitful
Indifferent to women. Even back in 1943, military records indicate his strong attachment to his mother made him indifferent to other women.
Attempts to hide real identity through the use of several alias, birth dates, etc.
An egotist according to the people who knew him, such as John Miles.
Secretive and guarded in his dealings with other people.
Neighbors do not know what he does. Keeps window blinds down continuously.
Criminal record shows several entries of prowling and peeping tom with an arrest in Redwood City four months before the first Bay Area killing.
Brain damaged in a vehicle accident in San Mateo, California in 1962.
In 1965, psychological evaluation indicated Kane was losing control of self-gratification and having seizures.
Separated from the United States Navy Reserves in 1943 because of his worry about his mother.
Dependent on his mother — mother dependent on him.
Incapable of forming normal adult relationships.
Taurus.
VICTIM CECELIA SHEPARD & BRIAN HARTNELL
Latent prints lifted from the Karmann Ghia and booking prints from Kane were taken to the Vallejo PD and Napa Sheriffs in the late 90s. They were compared by their fingerpinrt experts and the results could not confirm they were Kane's, but they also could not exclude him.
VICTIM DARLENE FERRIN
Suspect Kane knew Darlene Ferrin. Kane was identified from a picture line-up by Darlene's two sisters, Linda and Pam, as the older person the victim was afraid of.
He was also the person Darlene told people she saw kill someone.
Kane traded cars five days after Darlene was killed. He traded for a 1969 Ambassador, License # 20A468. On May 10, 1969, this was verified by lease agreement with John Miles and Delta Pontiac.
VICTIM STINE
Suspect Kane lived at 217 Eddy Street in San Francisco at the time the San Francisco cab driver, Paul Stine, was murdered.
The address at 217 Eddy Street is the Clark Hotel located approximately 2 1/2 city blocks from where Stine picked up the Zodiac the night he was killed.
VICTIM DONNA LASS
After killing the cab driver at Cherry and Washington Streets, the Zodiac fled into the Presidio in the direction of Letterman General Hospital.
Victim Donna Lass worked at Letterman General Hospital in the Presidio at this time and was assigned the graveyard shift.
Lass lived in the 4000 block of Balboa Street. Approximately six blocks from where Stine was killed at Cherry and Washington Streets.
June 1970, Kane left San Francisco and moved to South Lake Tahoe.
In June of 1970, Victim Lass moved from San Francisco to South Lake Tahoe.
Donna Lass went to work as the Hotel Nurse in the Sahara Tahoe Hotel Casino in South Lake Tahoe.
Suspect Kane went to work for Alan Dorfman selling Arizona real estate. His office was in the Sahara Tahoe Hotel Casino down the hallway from Lass' Nurse's Station.
Donna Lass disappeared on September 6, 1970. Four months after moving to South Lake Tahoe.
The morning after Lass disappeared, a male caller telephoned Donna's landlord and employer and told them she would not be returning due to illness in her family.
Kane would obviously have known where Lass lived and worked. Co-workers said Kane and Lass knew each other.
On March 21, 1971, the Zodiac mailed a postcard claiming his 12th victim in the Lake Tahoe area.
Kane moved to Las Vegas in 1971 according to Nevada Division of Real Estate and resided in the La Fonda Apartments on Spring Mountain Road.
VICTIM DANA LULL
Victim Lull was abducted in the Red Rock Canyon area of Las Vegas on April 24, 1974. Her male companion, Roy Tophigh, escapes and described suspect and vehicle.
Suspect Kane lived on Spring Mountain Road in Las Vegas at the time.
Surviving Witness, Roy Tophigh, described the Killer's vehicle as:
A white sports car (possibly a 1966-1968 Triumph.
-Convertible
-Black cloth top
-Wire spoked wheels
-Chrome luggage rack on the trunk
-Missing grill
-"Old" California license plates (TDY274)
Suspect Kane matched the description of the killer given by surviving victim Tophigh and a Nye County Sheriff's Deputy.
Suspect Kane's vehicle matched the description given by surviving victim Tophigh down to the missing grill.
Victim Lull's body was found in a mine shaft on Mountain Springs road in San Bernardino County, California.
Again Kane lived on Spring Mountain Road in Las Vegas (perhaps a subtle clue?)
Kane frequented the Spring Inn night club in Las Vegas according to his former employer, Alan Dorfman.
Witness Roy Tophigh, reported to the police he saw Lull's killer in the Spring Inn a month after the abduction.
VICTIM KATHLEEN JOHNS
On January 24, 1992, Kathleen Johns positively identified Kane's picture from three, six picture line-ups, as the man that kidnapped her and her baby, Jennifer, on March 23, 1970, near Patterson, California.
Victim Kathleen Johns described the suspect vehicle as a sedan, medium in size. She described the color as tan.
One of Kane's vehicle then was a 1969 Ambassador, goldish-tan in color.
KANE
The Zodiac said he "looked different" when he "did his thing".
Kane was issued two driver's licenses in South Lake Tahoe. Both issued on the same day with the same driver's license number.
The pictures on each license looked like a different person. However, careful scrutiny revealed they were the same person. The thumbprints also were the same. Kane showed his ability to change his appearance.
The Zodiac, in one of his letters, quoted from Gilbert & Sullivan's "The Mikado".
Kane lived on Eddy Street, a few blocks from the theater district in San Francisco where in 1969, the Lamplighter Theater Group was rehearsing "The Mikado".
Kane's military record showed he worked as a master of ceremonies for several night clubs and hotels before entering the United States Naval Reserve.
It is believed the Zodiac had military experience. Probably Naval.
Kane served in the United States Naval Reserve on active duty in 1943.
It was believed the Zodiac may have been exposed to some military codes.
Kane attended radio material school in 1943, which would have given him basic knowledge of coding messages.
In 1943, after serving only eight months of active duty in the Naval Reserve, Kane was discharged after a diagnosis of psychoneurosis hysteria was established.
Kane's condition, at the time of discharge, was caused by his strong attachment to his mother. His dependency on her and her dependency on him.
Kane's criminal record dates back to 1946. Entries show arrests occurred frequently for various crimes including assault and battery, shoplifting, prowling and peeping tom. The last entry was in June 1968, only four months before the killing of Jensen and Faraday on Lake Herman Road.
Kane then cleaned up his act. He stayed clear of the police from 1968 to 1979. At that time, he was arrested for hooking up a telephone illegally. The question is what caused him to change? It was inconsistent with his past. If he was the Zodiac killer then obviously he would not want to come to the attention of the police.
In 1962, Kane was involved in a vehicle accident where he received severe brain damage.
After recovering, Kane's mental condition, although described as being serious, did not merit commitment to a state institution at that time. The doctors determined that psychotherapy would have little value.
Kane's prognosis in 1965, in terms of rehabilitation, was extremely poor.
In 1965, Kane's medical records indicated "his recent involvements have taken a definite pattern and indicate a lack of control in self-gratification".
The Department of Motor Vehicles in Sacramento, California, Classified Kane as mentally disabled and refused to issue him a driver's license.
Kane, however, fraudulently secured driver's licenses throughout the years.
Kane used several aliases over the years. From 1966 to 1969, he used the name Larry KANE.
His name was KANE during the Zodiac killings in the San Francisco Bay Area.
Kane then moved to South Lake Tahoe and changed his name to Larry CANE.